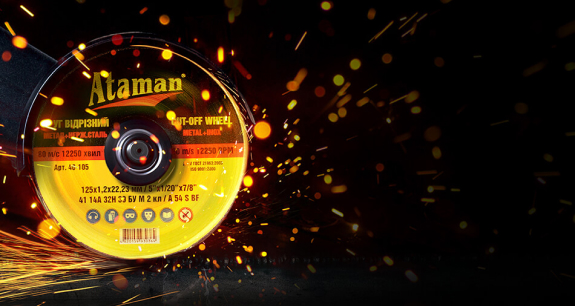 Why users choose the Ataman cutting wheels?
People use «Ataman» cutting wheels because they are produced using a bakelite bond with reinforcing elements. The universal abrasive tool has a number of advantages which have made it demanded in a professional construction segment:
Using of high-quality materials
Excellent resistance to wear
Highly durable
Technical characteristics of a cut
Universality of application
Good result with minimum efforts
The main advantage which we have confirmed with numerous results in comparative testings:
The lowest price per 1 cut in Ukraine this is the main reason that every 2nd user chooses the "ATAMAN" cutting wheels.
The high quality of the product was achived through the use of modern production lines, proven methodologies anad production technologies.
The cutting wheels are produced by sintering in a furnace at a temperature of 120 Celsius and then are subjected to pressure between 2.5 and 5 tons. It is providing the highly durability conforming to T1 and T2 standarts.
Suitable application for cutting:
Pipes, thin-walled metal, INOX and steel sections
Metal rod and rolled metal
Structural and alloyed steel
A distinctive feature of the "Ataman" metal abrasive cutting wheels is the use of a highly durable modern waterproof material its structure being 95% high quality aluminium oxide and 5% zirconium.
The product conforms to the TU U standard 23.9-38633740-001:2013, GOST 12.4.026-76 and the MPA, EN 12413 European standards. Wheels do not contain sulfur, iron and chlorine.
Comparative test results can be viewed on video!