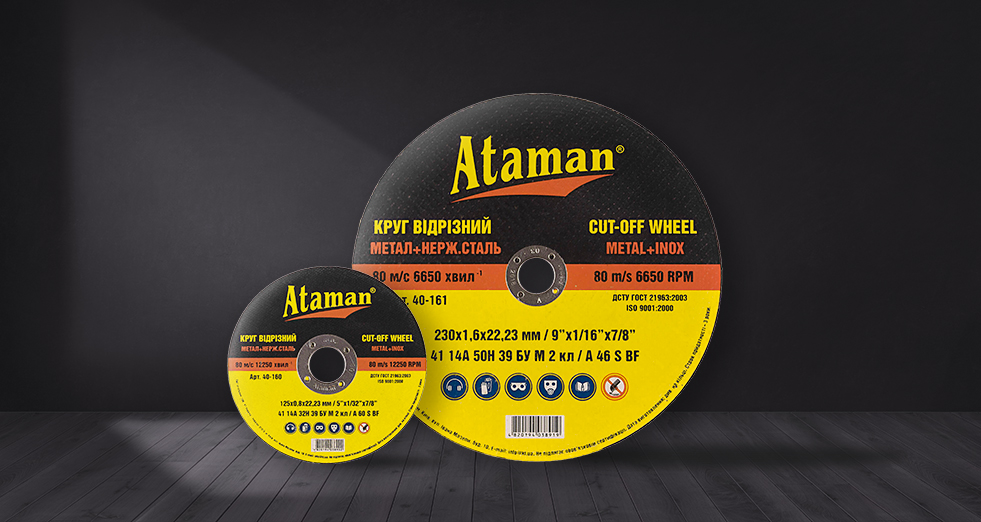 15.08.2018
Give two: TM "Ataman" expands its product line
The Ataman trademark is not only reliability in every turn, but also complete openness towards its customers and a constant desire to develop products. Development implies not only the regular improvement of existing types of abrasive materials, but also the expansion of the line. In this regard, we are in a hurry to inform all admirers of high-quality abrasives about the imminent appearance on sale of new positions of cutting wheels for metal from our Brand: 230 1.6 and 125 0.8.
Meet the novelty
Each cutting wheel of TM "Ataman" is made on a bakelite bond with reinforcing elements using double-layer reinforced fiber of class A. The lowest cost of cutting in Ukraine and full compliance with European standards MPA, EN 12413 makes our abrasive materials really the best in their field.
Already this fall, our line of discs will be complemented by two new positions, each of which has its own advantages.
Ataman 41 14A 230x1.6x22.23:
exact and safe cut without chips;
possess the increased wear resistance;
The most common size for angle grinders.
Ataman 41 14A 125x0.8x22.23:
demanded due to their uniqueness - suitable for cutting carbon, structural and alloyed steel types;
reduced the metal resistance in the cut zone;
made of electrocorundum special strength;
actively used in the automotive field, thanks to accurate and clean cut.
Not a word, but a deed
We regularly confirm the quality of our own products not only in words but also in deeds. A huge number of users of our abrasive materials on their own experience has already been able to verify the reliability of the cutting discs TM "Ataman".
We all understand that no one wants to buy a "cat in a bag." That is why we provide samples of our products for review. This will ensure the quality and reliability of branded abrasive materials even before their purchase.
Stay tuned to the site to be the first to know about all the updates!